In Norway, a common form of correction for age-related vision is lens replacement surgery. It is basically an operation for the treatment of cataracts. In many other countries, however, laser surgery is the standard. PMP Eyecare only uses lasers when correcting vision – including age-related vision. It is much gentler and almost risk-free. Instead of removing a part of the eye, we fix what you already have. Our method is solidly scientifically documented.
For those between 18 and 45 years old
Femto Second LASIK/ReLex-SMILE
For those over 45 years old
Consultation
Book an appointment with us
Practical information: How the treatment is done.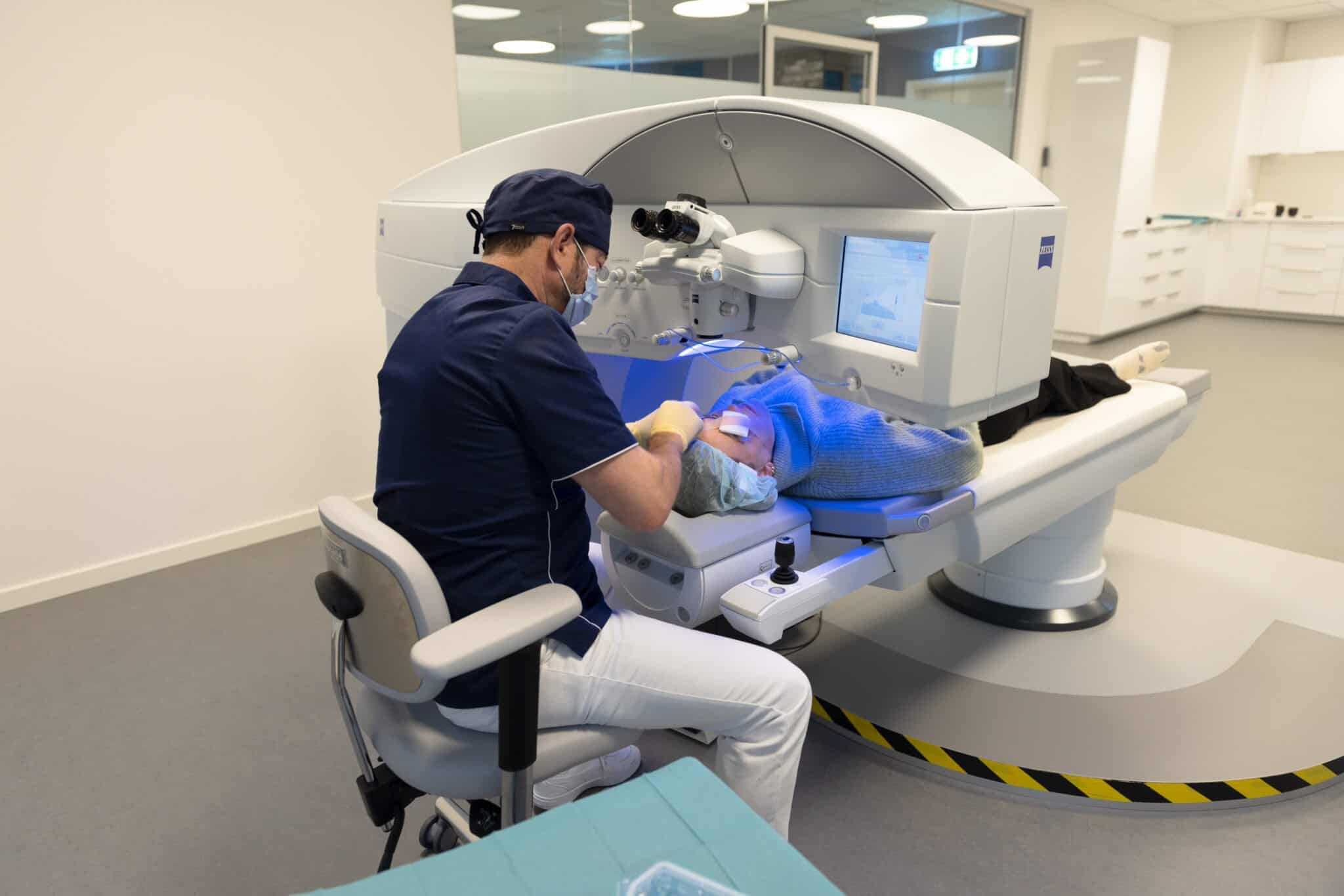 Before the operation:
The preoperative examination/consultation takes just under one hour, and consists of a series of measurements of your eyes as well as a conversation about the expected results and possible risks in relation to your eyes. If any eye disease is detected, this will be addressed, and necessary measures will be taken.
After the pre-examination, we thoroughly go through the treatment procedure, how you should proceed afterwards, and how to use the eye drops you will be given after the treatment. You will also receive this information in writing and reviewed again on the day of the operation.
You should remove contact lenses the night before the pre-examination and the night before the operation. Wearing contact lenses overnight and in the hours before the pre-examination can affect the measurement results used to program the laser, and can lead to unnecessary inaccuracies in the laser treatment.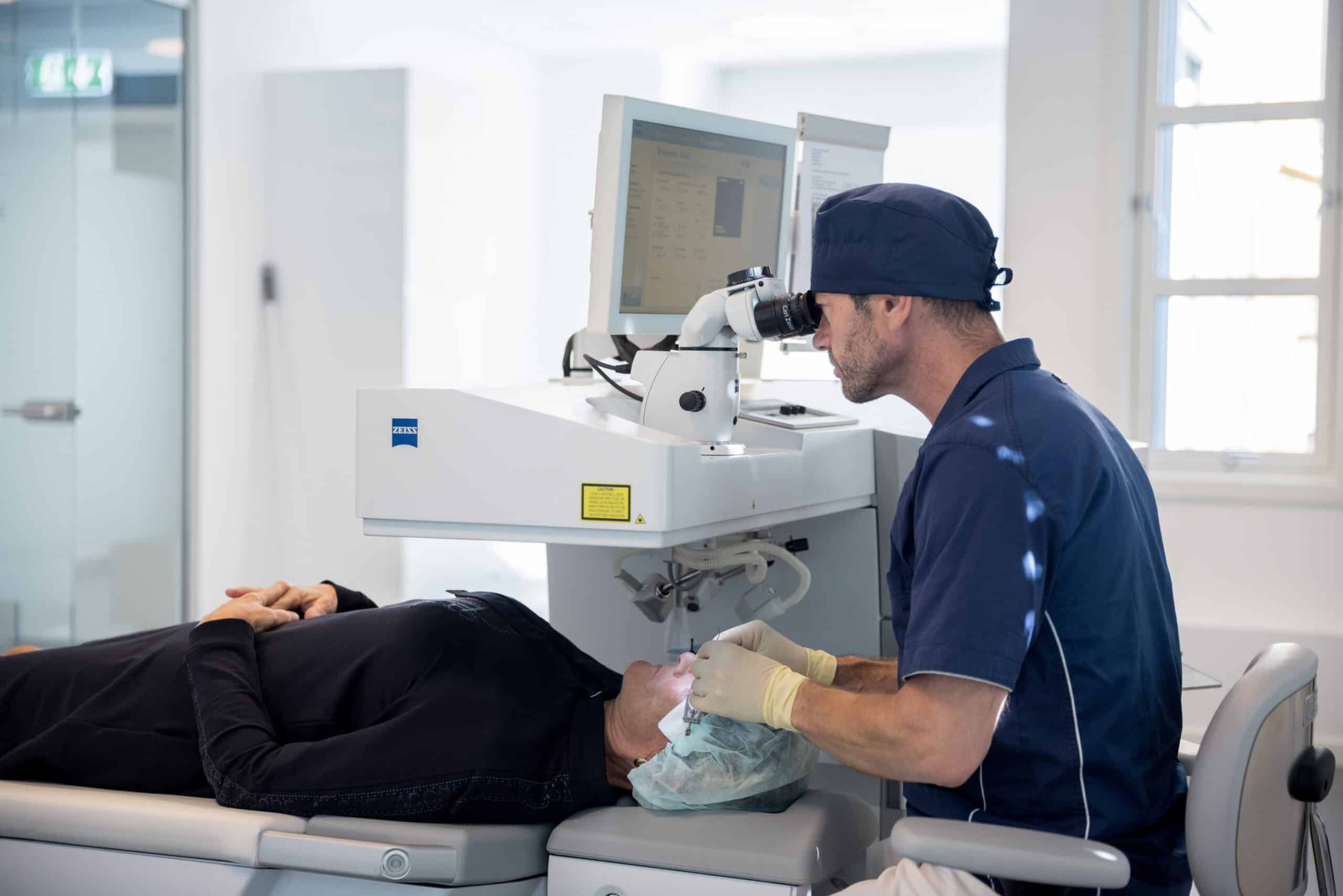 On the day of the operation:
When you arrive at the clinic, you will be given repeated information about the operation as well as a check-up of your eyes and an opportunity to ask the doctor any questions. You will be offered a sedative tablet and the chance to rest and have a cup of coffee. 
When you enter the operating room, you will be thoroughly numbed with eye drops. After the numbing, the doctor will place an eyelid holder that keeps your eyelids open during the laser treatment.
The operation itself takes about 1 minute per eye.
After the operation, you will also be given a pain relief tablet and will rest in a reclining chair in our rest room for 3 hours. This is to give your eyes as much rest as possible and to start the healing process as quickly as possible. After 3 hours, any discomfort should significantly decrease, and most people already experience clear and good vision at that time. You will then be examined by the eye doctor and given eye drops before you can go home.
You cannot drive home yourself due to the medication you have received and because you will be somewhat light-sensitive for a few hours after the surgery.
Your eyes may be a little red and irritated the next morning, but you should be able to drive and function completely normally the day after the surgery.
Weeks after the surgery
During the first few weeks after the surgery, you should avoid rubbing your eyes hard. You should also be careful with swimming and sports where you risk getting hit or hit with a ball in the eye.
Be careful to use the eye drops you have received from PMP Eyecare. They should be applied four times a day in both eyes for a week to prevent infection.
Postoperative check-ups are included in the surgical fee, and the eye doctor is available to answer any questions that patients may have both before and after the surgery.
Dr. Petter Montagu-Pettersen also runs a general private eye clinic without reimbursement. You can schedule an appointment for evaluation and control of other eye disorders. 
If you have any questions about our treatments, references, methods, or equipment, do not hesitate to contact us. Call us at +47 976 58 664 or send an email to post@pmp-eyecare.com.
General ophthalmologist consultation: NOK 990
Short checks: NOK 750
The pre-examination for 990 NOK is included in the operation fee, as well as post-check-ups and eye drops.
I am so grateful for the help I received. Well taken care of by very friendly staff. I have struggled with my vision for all these years, and now I can live without glasses. Thanks to PMP Eyecare. Highly recommended!
Espen Nordli Eriksen
Exceptional treatment. Safe, informative, comfortable, and a great atmosphere. I felt welcomed and taken care of from the first second. Highly recommended. Thank you for a new view of the world.
Arild D. Andersen